Empathy. We all aspire to be empathetic in our work as researchers and marketers. But how can we work out our empathy muscles like we do our calf muscles?
Rob Volpe, CEO & Chief Catalyst of Ignite 360 and long-time QRCA member tells us how in his new book 'Tell Me More About That: Solving the Empathy Crisis One Conversation at a Time' and we're honored to have him share with us his empathy workout gleaned from years of experience as a market researcher.
Join us on June 3rd to hear Rob read a selection from his book and participate in a conversation about the lessons the book imparts on using every interaction we have people to build more connection and understanding.
Happily brought to you by the below QRCA local Chapters. Learn how to connect with fellow researchers and marketers in your local area by visiting at qrca.org/Chapters:
Metro NY/NYC

Canada

Canada – Eastern

Chicago

Georgia & Friends

International

New England

Pacific NW

Missouri

San Francisco

Washington D.C.
About 'Tell Me More About That: Solving the Empathy Crisis One Conversation at a Time'
It's time to shape up your empathy muscle.
Empathy is in short supply these days—and it's hurting us. From the rise in workplace bullying to increased anxiety and depression, a lack of empathy for one another is wearing away at the gears of society, grinding us down to the nubs. The very technology that is supposed to keep us connected is actually driving us apart, with face-to-face interactions on the decline, and news filtered through an echo chamber that shelters us from other points of view.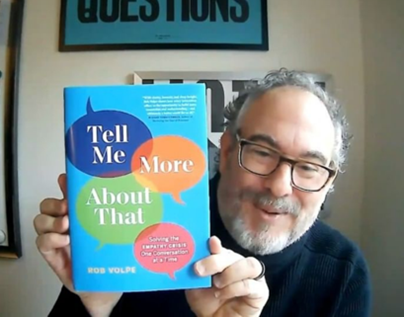 But all is not lost. Just as physical workouts strengthen your body, there are ways to build up your empathy as well. In Tell Me More About That, brand strategist and thought leader Rob Volpe draws on his years conducting thousands of in-home interviews with everyday people to illustrate the 5 Steps to Empathy—the actions you can take to build a strong and reflexive empathy muscle.
Through humorous and moving accounts of interactions with folks from every walk of life, Volpe recounts how, what often began in a stranger's house as a talk about brands and daily habits, could blossom at any minute into a conversation about family, relationships, hopes, and dreams. Though he may have been invited into these homes as a marketing researcher, he left them as an expert on empathy.
And along the way, discovered that there exists a set of common values connecting us all. Strip away the exterior wrapping of blue state/red state, straight or gay, black or white, and we're all far more similar than we are different. With empathy, we can all learn and understand more than we ever imagined possible. Let the training begin.
For more about and to purchase 'Tell Me More About That: Solving the Empathy Crisis One Conversation at a Time', visit https://www.5stepstoempathy.com.